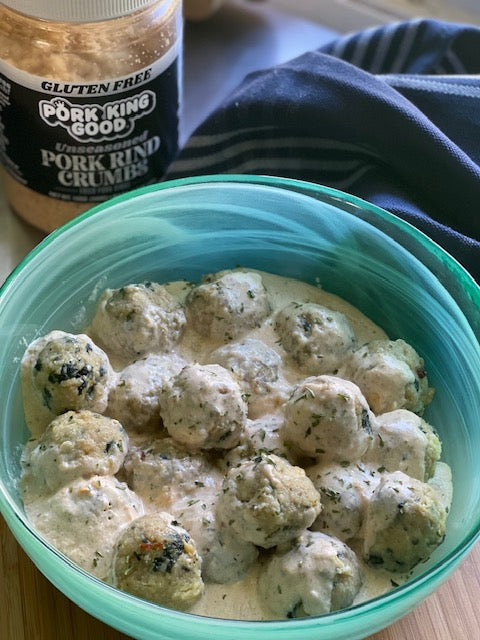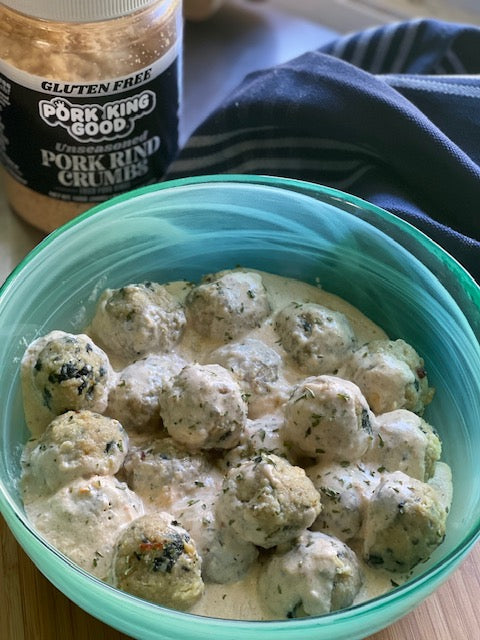 Spinach and Feta Chicken Meatballs with Garlic Cream Sauce
These delicious meatballs are a nice spin off of original meatballs. The combo of spinach, roasted garlic and feta cheese might make you drool.. don't say we didn't warn you !
Ingredients:
1lb ground chicken 

2cups packed baby spinach, chopped 
1/2 white onion, chopped 
6oz crumbled feta 
1 head roasted garlic , smashed up 
1 egg, beaten
1tbs butter
Directions:
Over medium heat melt butter and add your onion. Once soft add your spinach to wilt. Remove from heat and let cool. 
In a large bowl add your chicken, feta, crumbs, garlic , spinach mixture and egg. Mix until just combined. Roll into equal balls ( highly recommend using a 1" scoop for even balls ) bake at 415° for 25 min. 
Garlic cream sauce 
1c fat free half and half
3 cloves smashed roasted garlic
1tbs Sun dried tomato pesto 
1/4 parm cheese
In a small saucepan over medium heat add your cream, garlic and pesto. Bring it to a simmer then slowly add your Parm cheese a little bit at a time stirring constantly. Let simmer until it thickens. Pour over meatballs.