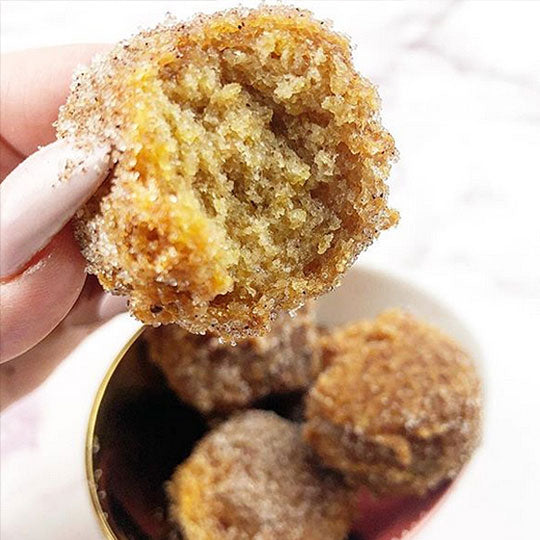 Pork Rind Crumb Keto Donut Holes by Vy & Regina
Let's be real, we at Pork King Good have been following a low carb / keto diet since 
2014 and have come across the full spectrum of ketofied recipes (both good and bad). Sometimes, however, we're completely blown away by the creativity of fellow Ketopians, and this was without a doubt one of those moments! Our friends Vy & Regina (@kuwtketodashians) took keto cooking to a whole new level last month and magically concocted Keto Cinnamon Sugar Donut Holes out of our Pork Rind Crumbs! Yes -- you heard right...PORK DONUTS! They were gracious enough to let us share their recipe with all of you here, so definitely go check them out and give them a follow for some amazing low carb recipes!
Pork Rind Crumb Keto Donut Holes
Mix 1/2 cup Pork King Good Pork Rind Crumbs with one egg, 1 tsp of vanilla extract, 1 tsp cake batter extract, 3 tbsp monkfruit sweetener, and 1/2 tsp baking powder.
Using a small ice cream scoop, drop portions into 375 degree hot oil and fry for 3-4 minutes.
Roll in a cinnamon sugar (using your sugar substitute of choice). Or, wait until they're cooled to cover in a powdered sweetener for a different variation.
Lastly, stuff your Pork-King face!