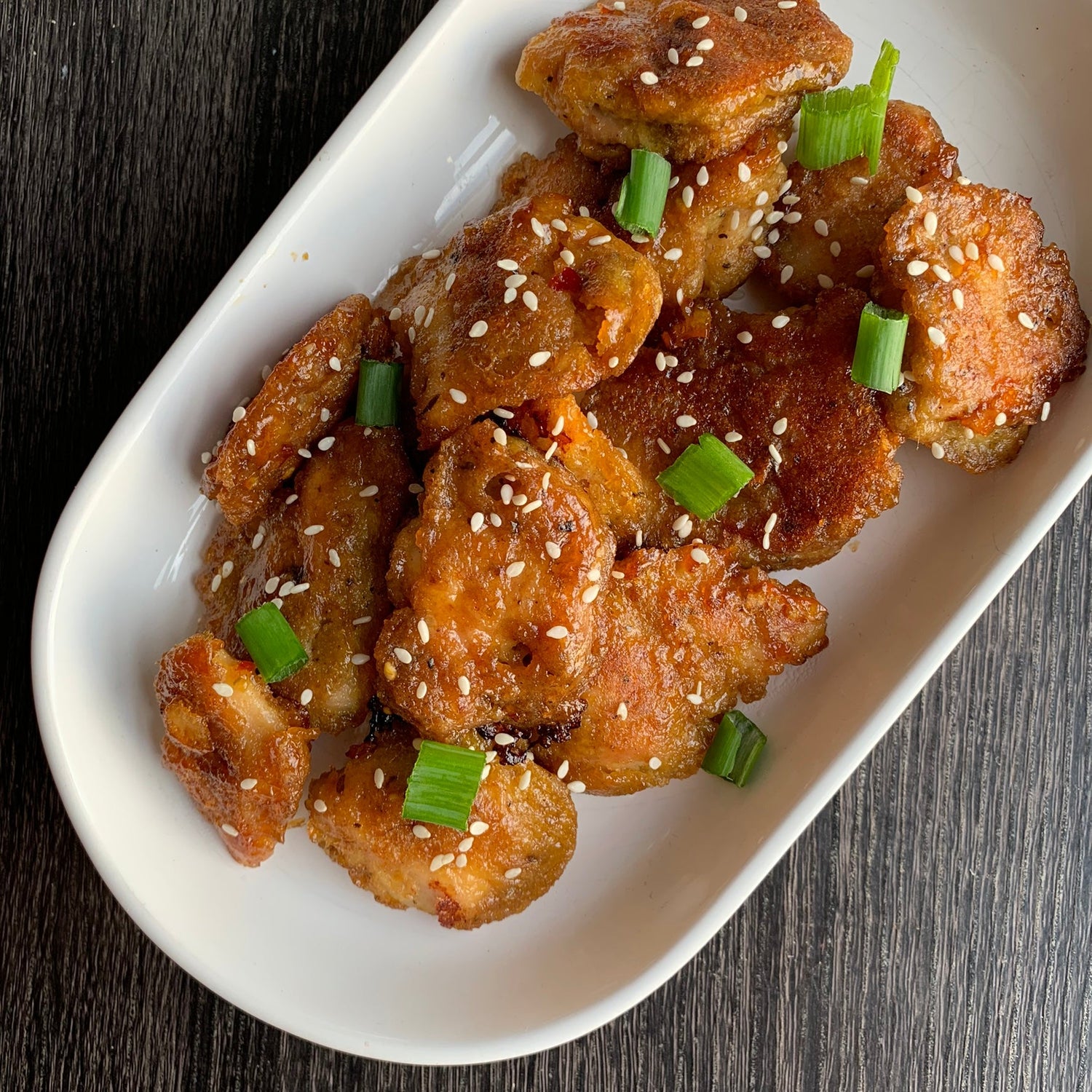 Pork King Good Pork Rind Crumb Low Carb Orange Chicken
What can we say? This was our first attempt at a low carb version of Asian takeout food (Panda Express, anyone) from our past and WOW! The bold flavors in the sauce tossed over the chicken are honestly so identical to the real deal Orange Chicken that our entire family was absolutely floored.
But wait, there's more! The best and biggest surprise that came about while working on this recipe was the creation of a universal keto wet batter that we breaded the chicken with! This is SO game-changing and can be used for all sorts of tempura or delicious golden fried fish or shrimp just like you'd find at a top notch Fish & Chips spot. The batter on its own deserves a separate recipe post, which will be added shortly.
As always, we tried to only use ingredients that are easy enough to find in any grocery store and simple cooking techniques, because not all of us are chefs! (Speaking for myself, here). Here's how it all went down:
Pork King Good Pork Rind Crumb Low Carb Orange Chicken
Yields: 4 servings     Prep time: 15 minutes     Cook time: approx 15 minutes
Ingredients:
1 lb boneless, skinless chicken thighs
Oil for cooking (we used avocado oil)
Optional garnish: sesame seeds and diced green onion
Batter:
1/2 cup Pork King Good Pork Rind Crumbs
2 eggs
2 tablespoons sparkling water
1 teaspoon baking powder
1/2 teaspoon baking soda
1/2 teaspoon himalayan salt (or salt of choice)
Any additional seasoning you'd like (we used Dak's Spices Asian Zing and Citrus Groove)
Sauce Ingredients:
1/4 cup sugar-free orange marmalade (we used Smuckers brand that we found at Walmart)
1/4 teaspoon chili garlic sauce (Note: This sauce is very spicy. We used just a tiny amount to keep it kid-friendly, but feel free to add more if you'd like an extra "zing")
1 tablespoon soy sauce (This can be substituted with a gluten-free Tamari sauce or coconut aminos)
1 tablespoon rice vinegar
1/4 teaspoon ginger
1 - 2 teaspoon brown sugar substitute (We used Swerve brand. Feel free to add more if you prefer a sweeter sauce).
Instructions:
Slice chicken into 1 inch cubes and set aside
In a large bowl, combine all of the batter ingredients and whisk them together vigorously until there are no more lumps.
Add a couple of tablespoons of oil to a large pan (or enough to coat the bottom of the pan) and heat on Medium-High until you can hear a drop of water sizzle in the pan when you drop it in.
Thoroughly coat each piece of chicken in the wet batter and place them gently in the pan. Try to leave a little space between them so they don't stick together.
Fry for 2-3 minutes on each side or until they're golden brown and cooked  through.
Remove chicken from the pan onto a paper towel lined plate to rest.
Turn the pan down to Medium-Low and add in all of the sauce ingredients, stirring continuously until the marmalade is melted down and all of the ingredients are thoroughly combined.
Immediately add the chicken back into the pan and toss it in the sauce so that all pieces are evenly coated.
Serve immediately. If you're feeling fancy, garnish with sesame seeds and some green onion.
And lastly, stuff your Pork-King face!
Note: Our recipe as-is isn't super "saucy", just as personal taste. If you prefer a wetter / saucier orange chicken, feel free to double the sauce recipe.
Sauce Ingredients:      
Batter after stirring:
Finished product with sauce as-is in recipe: (feel free to double for a saucier version)