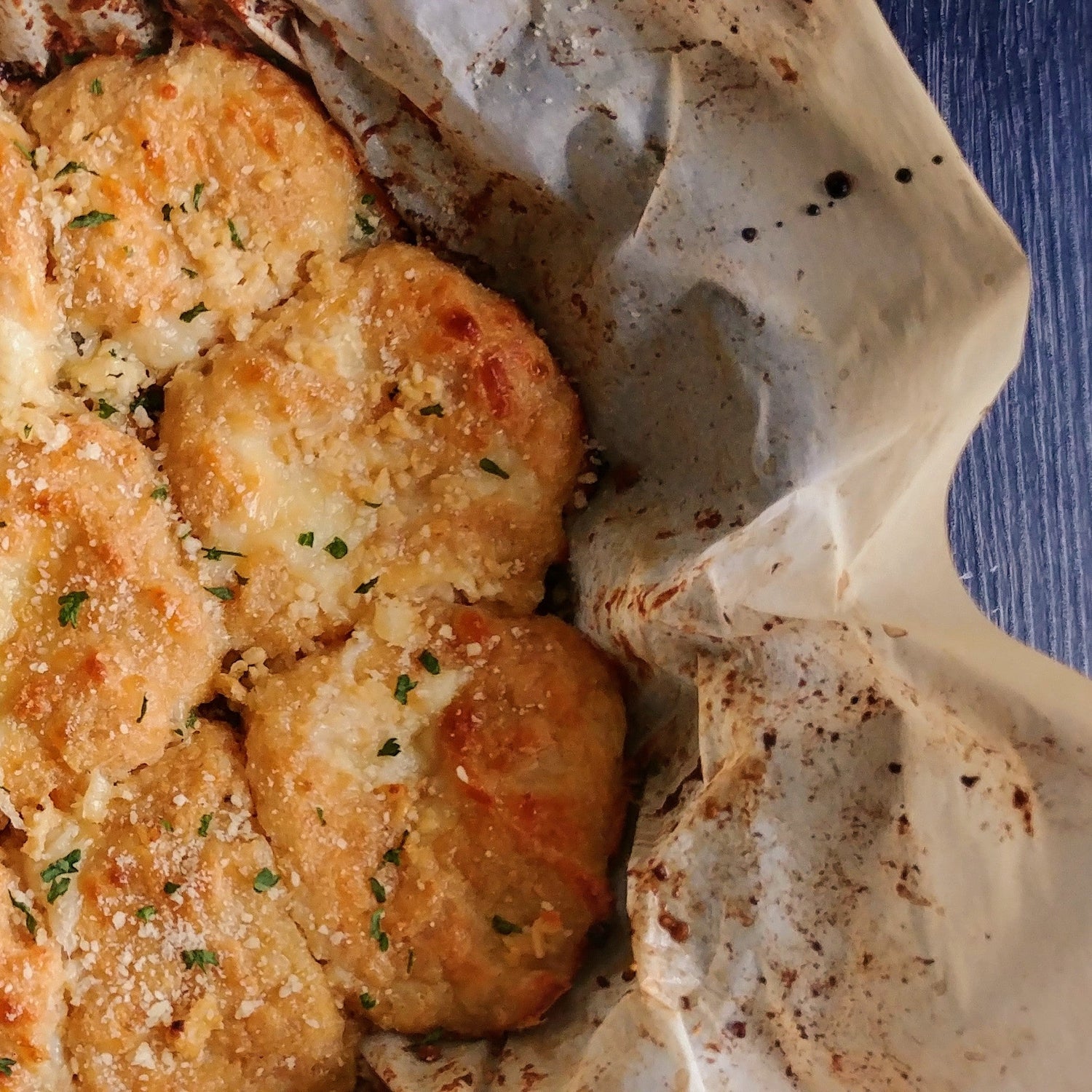 Pork King Good Keto Mozzarella-Stuffed Pork Rind Crumb Garlic Rolls
Who says you have to give up garlic rolls in order to stay low carb? Prepare to be WOWED! These aren't just any old garlic rolls...these are hot, gooey, mozzarella cheese-stuffed keto garlic rolls that come in at only 100 calories and 1 carb per serving. The secret ingredient? PORK RIND CRUMBS!! You'd never know it. Seriously! Stop what you're doing and try these out. Bonus: Your whole house will smell like a pizzeria and you'll have one of the best days of your low-carb life.
Pork King Good Mozzarella-Stuffed Pork Rind Crumb Garlic Rolls

Yields: 12 servings     Prep time: 10 minutes  Cook time: 12-18 minutes
Ingredients:
1 cup Pork King Good Pork Rind Crumbs (Original)
1 cup shredded mozzarella cheese
2 eggs
2 tbsp sour cream (regular or light)
1 tbsp baking powder
1 tsp garlic powder
-----------------------------------------------------------------------
3/4 cup shredded mozzarella cheese
3 tsp minced garlic
grated parmesan cheese
parsley flakes for garnish
Instructions:
Preheat oven to 450 degrees
Stir together all of the top ingredients.
Drop 12 servings of the mixture onto a baking sheet lined with parchment paper.
Push about a tbsp of the extra mozzarella cheese (from the bottom list of ingredients) into the center of each roll.
Spread a little bit of minced garlic onto the top of each roll, and sprinkle with grated parmesan cheese.
Spray the top of the rolls with a small amount of cooking spray (this helps to crisp them up and gives the rolls a nice golden brown color).
Bake for 12-18 minutes. As each oven varies, you may want to peak in at them around the 10 minute mark to see how they're doing. Sprinkle with a little more parmesan cheese and parsley for garnish.
Serve warm, and Stuff Your Pork-King Face!
Macros per roll:
100 calories / 7g fat / 1g net carb (1g carb, 0g fiber) / 0g sugar / 8g protein
Tag us @PorkKingGood on Instagram or Facebook if you give these a try! We can't wait to hear what you think!
Need to stock up on Pork Rind Crumbs? SHOP NOW.