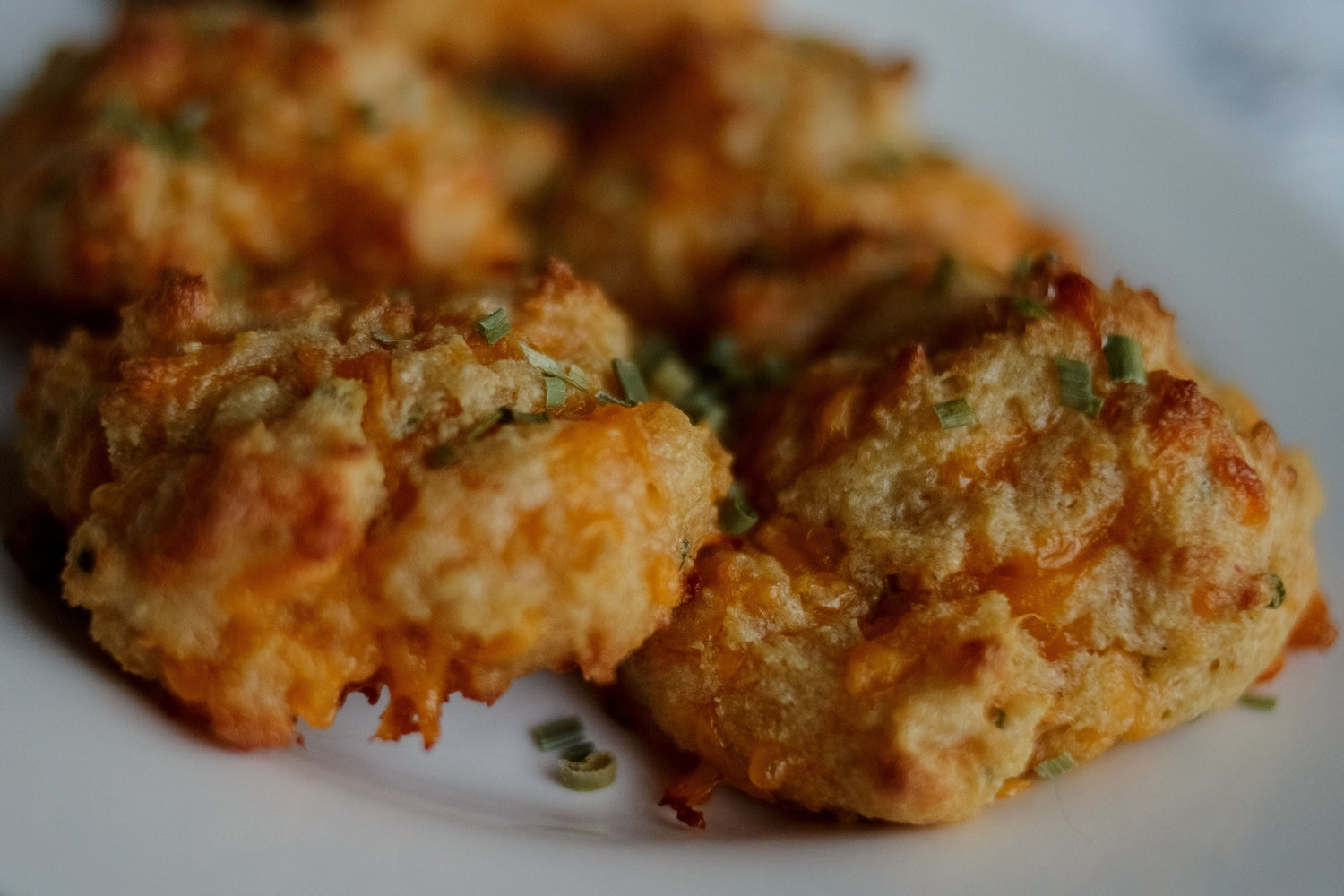 Pork King Good Low Carb Keto Cheddar Bay Biscuits (Red Lobster Copycat)
So in my previous carb-filled life, I was absolutely obsessed with those delicious cheesy biscuits from Red Lobster. I'm talking, make a trip there just to order the biscuits to-go type of obsessed. Needless to say, I've been on an endless quest for a low carb version of these treasures that would give me that cheddar garlic fluffy fix. Well folks, after 4 long years I believe I've finally nailed it. Who would have thought that after all this time, it would be my beloved Pork Rind Crumbs that would be the magic ingredient?! The texture of the biscuits is so spot on compared to the original that I had to taste several batches before I finally believed it (you know...for science). The best part? The recipe is REALLY easy and REALLY quick, so stop reading and go make these STAT! Bonus - they come in at only 1 carb per biscuit!
Pork King Good Keto Garlic Cheddar (Red Lobster) Biscuits
Yields: 6 biscuits     Prep time: Less than 5 minutes     Cook time: 11 minutes
Ingredients:
1 cup shredded cheddar cheese
2 eggs
2 tbsp sour cream
1 tsp baking powder
1 tsp garlic powder
Instructions:
Preheat oven to 450 degrees.
Stir all ingredients together
Drop 2 tbsp of the mixture at a time either into a greased muffin tin or onto a baking sheet lined with parchment paper.
Bake for 11-12 minutes.
Serve warm, and Stuff Your Pork-King Face!
Tag us @PorkKingGood on Instagram or Facebook if you give these a try! We can't wait to hear what you think!
Need to stock up on Pork Rind Crumbs? SHOP NOW.