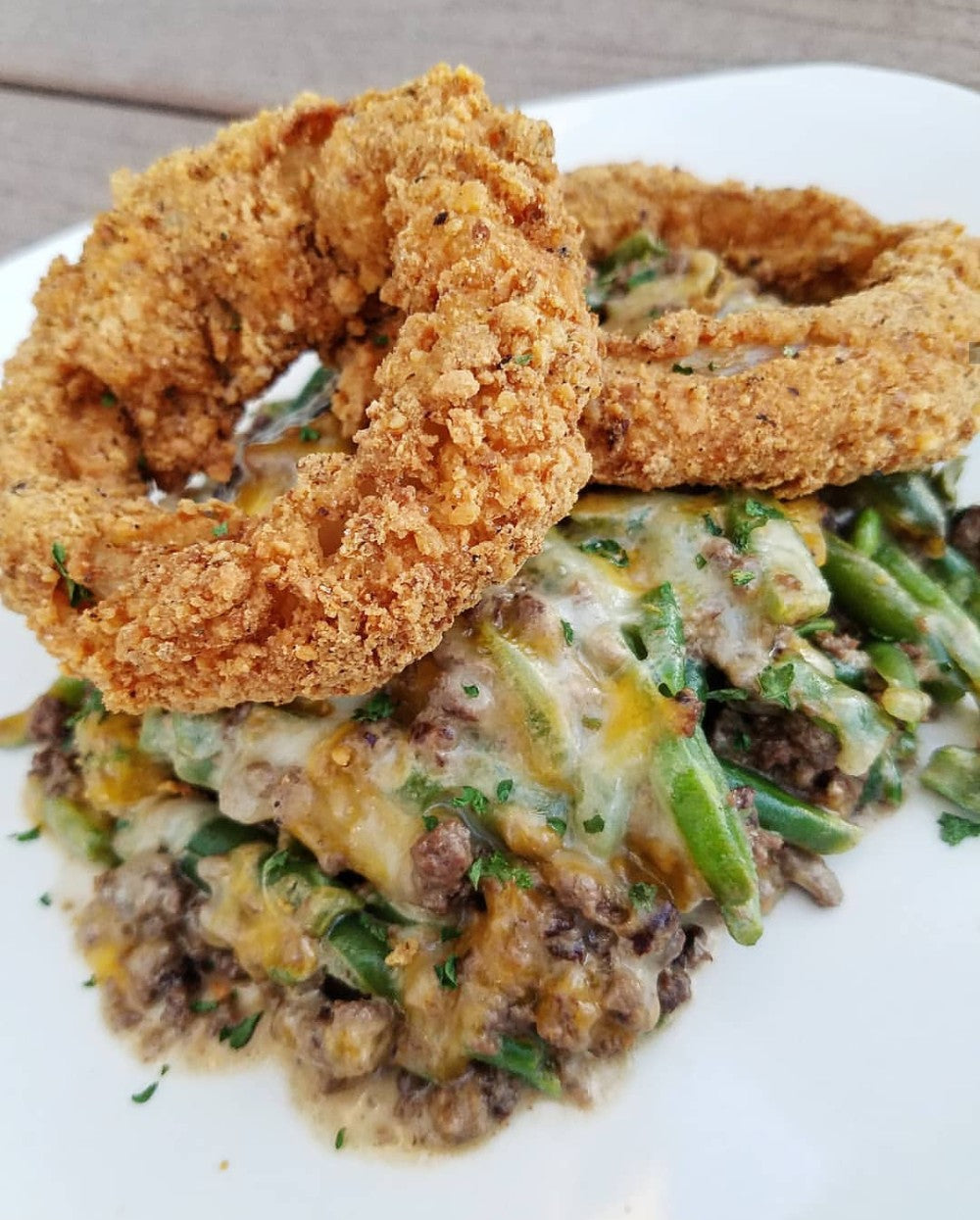 Ground Beef Bake with Crispy Onion Rings by @LowKarbKhaleesi
Ground Beef Bake crowned with Crispy Onion Rings
.
Creamy ranch ground beef with a healthy serving of green beans and delicious crunch!
.
.
1 lb ground beef
4 Tbsp cream cheese
1 Tbsp ranch seasoning
1 tsp garlic powder
black pepper
1/2 cup heavy cream
1 tsp beef bouillon
12 oz frozen green beans
1 cup shredded Colby jack cheese
▪▪▪
Cook beef in skillet until no longer pink. Add cream cheese and mix. Sprinkle with ranch seasoning, garlic powder, pepper, and bouillon. Pour in heavy cream. Heat 5 minutes or until thickened. Mix in green beans and pour into a 9 x 9 baking dish. Top with shredded cheese. Bake at 350° for 30 minutes
.
.
Onion Rings:
1 sliced onion
2 Tbsp Iconic unflavored protein powder isolate
2 eggs, beaten
1/4 cup Iconic unflavored protein powder isolate
1/4 tsp garlic powder
1/4 tsp paprika
1/4 tsp black pepper
▪▪▪
Place onion slices and 2 Tbsp isolate in plastic bag. Shake until onions are covered. Arrange two bowls. In first bowl put beaten eggs. In second bowl combine crumbs, isolate, and seasonings. Dip onion slices in egg and crumbs, then egg again and crumbs again. This double dipping gives the perfect crispy crunch.
Fry in avocado oil until golden