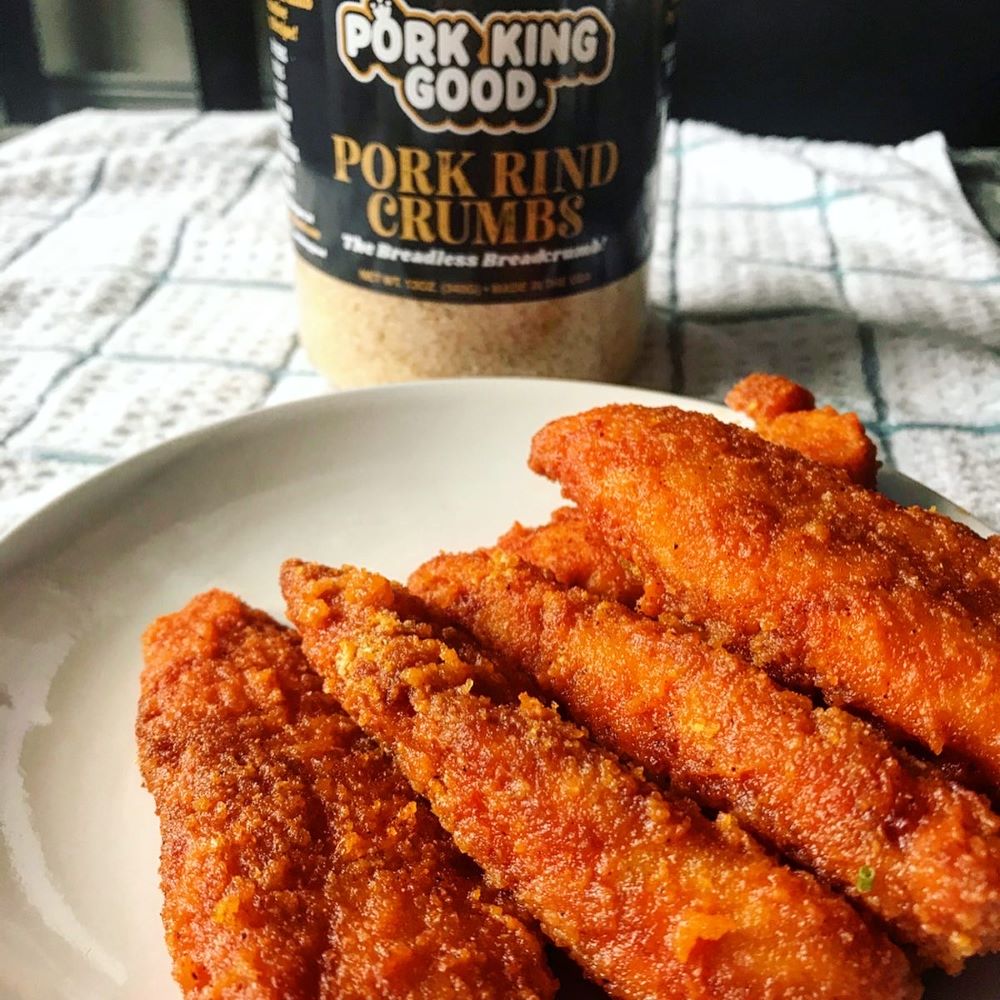 Pork King Good Buffalo Chicken Strips
Pork King Good Keto Friendly Buffalo Chicken Strips
Whip up these super simple Buffalo Chicken Tenders using Pork King Good Pork Rind Crumbs instead of breadcrumbs to satisfy your cravings without packing on the carbs!
Ingredients:
Chicken tenderloins (We did 5 here, recipe is easily adjustable )

1 egg

1tbs heavy cream

1C Original Pork King Good

 Pork Rind Crumbs

(Or our Spicy Cajun or Ranch Pork Rind Crumbs).
1/4C hot sauce (we used Frank's Red Hot brand)


2tbs butter

Oil for frying (We used avocado )

_
Directions:
Whisk egg and heavy cream together in a bowl and set aside.

Put Pork Rinds Crumbs in another bowl.

Dip chicken in egg wash then dredge in Pork Rind Crumbs.

Heat oil in a skillet over medium high heat.

Fry tenderloins for 4 min a side. Drain on paper towel.

Heat up hot sauce and butter in a small pot over low heat.

Pour into a bowl and then add tenders. Toss to coat. Serve with ranch or blue cheese.
Be sure to tag us online @PorkKingGood if you give this recipe a try!
Pork King Good Pork Rind Crumbs are a zero carb, sugar free, and gluten free breadcrumb (panko) and flour substitute that can be used on anything from chicken parm to meatloaf to pancakes! They're an absolute game-changing kitchen staple for anyone following a ketogenic, paleo, diabetic, or bariatric diet! Get ready to take your keto recipes and low carb recipes to the next level!