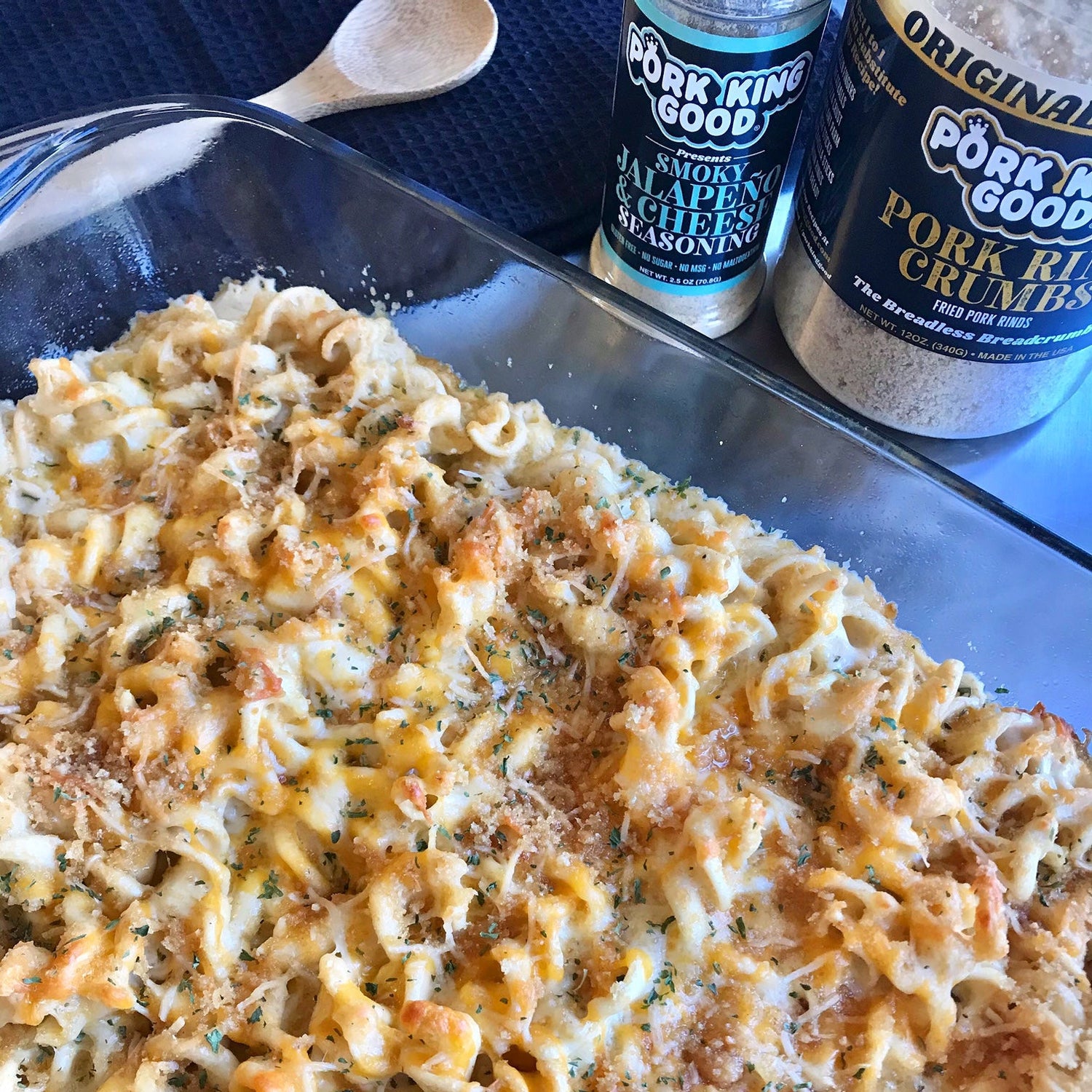 Pork King Good Low Carb Baked Smoky Jalapeno Mac and Cheese
If you like a little kick to your food, this mac and cheese is for you! JUST the right amount of spice from our new Smoky Jalapeno and Cheese seasoning combined with an ultra rich and creamy cheese sauce and a crispy topping make for an absolutely killer side dish. You can cook this as a traditional OR low carb macaroni and cheese using your favorite pasta!
And don't worry, if you don't like baked macaroni and cheese, just stop after you finish the cheese sauce and enjoy !
Ingredients: 
Pasta of choice 
1/4C butter
3oz softened cream cheese

1.5C heavy or light cream

1/2C reserved pasta water 

2C shredded cheese, we used Colby Jack
Topping:
Directions:
Boil your noodles and reserve 1/2C of the pasta water then drain noodles and set aside. 
Preheat oven to 350°
In a saucepan over medium heat melt your butter and cream cheese. 
Next add your cream and pasta water. Combine and let it come to a simmer. 
Add your smoky jalapeño and cheese seasoning and mix. Taste your sauce and adjust seasonings if needed.
Now turn off the heat and whisk in your shredded cheese one handful at a time until all 2 cups are incorporated. 
Mix your noodles into your cheese sauce then place in a baking dish. Top with pork crumbs and Parmesan cheese.
Bake for 20 min.