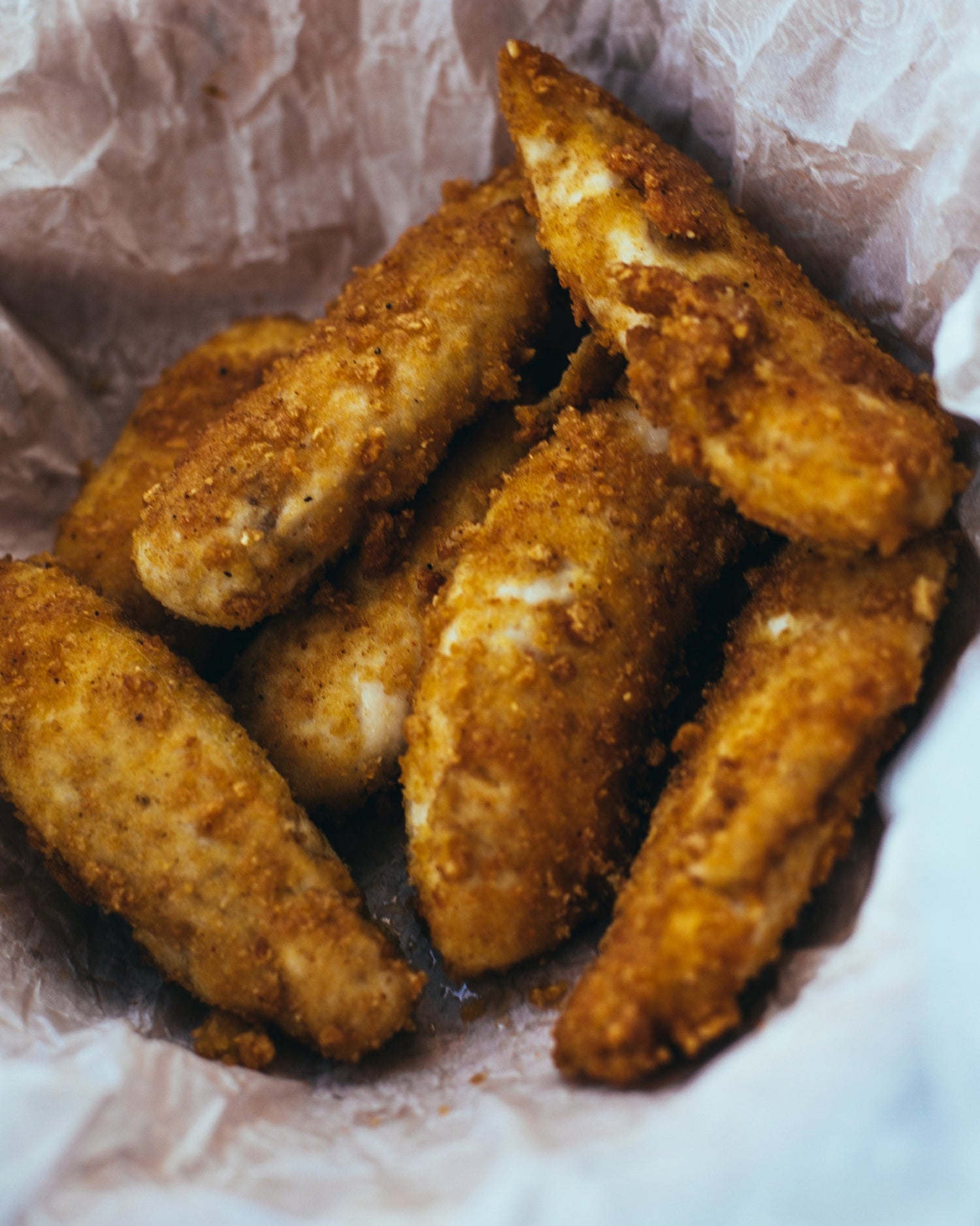 Pork King Good Low Carb Pork Rind Keto Chicken Fingers
Listen up, folks. These chicken strips are not only approved, but LOVED by our strictly frozen-chicken-finger-loving kids. Let's just say that these kids have made a sport out of extreme-pickiness, so this is pretty much like winning the Olympic gold medal of cooking. In other words, boy oh boy do these low carb chicken tenders taste just as good as the real thing!
Prep time: 10 minutes     Cook time: 6-20 minutes (depends on if you are pan-frying or oven baking)     Servings: 4
Ingredients:
1.5 cups Pork King Good Pork Rind Crumbs
1.5 lb chicken tenders (or 12 pieces)
2 tbsp olive oil
1 tsp salt
1 tsp garlic powder
1/2 tsp cayenne pepper (or your favorite spice mix)
3 tbsp Dijon mustard (see notes below recipe for substitution ideas)
Instructions:
Dip your chicken tenders in the mustard and season with salt, garlic powder, and cayenne pepper (or whatever seasoning you'd like).
Pour your pork rind crumbs onto a plate or large bowl and press each tender into the crumbs until they are fully coated.
IF PAN FRYING (our preference): Coat a large pan with a thin layer of olive oil or avocado oil (we use about 2 tbsp) and heat over medium high heat. Once heated, fry your chicken fingers for about 3 minutes on each side or until golden-brown.
IF OVEN BAKING: Preheat oven to 375. Place chicken fingers on a greased (or parchment paper lined) baking sheet and either spray with a little cooking spray or drizzle with a bit of olive oil for extra crispness. Bake at 375 for 15 to 20 minutes.
Stuff your pork-king face!
*This is a very simple recipe and you can easily swap out ingredients for some variety. For example, you can use eggs, an egg/creamer combo, or mayonnaise instead of the mustard to coat the chicken. You can also try adding grated parmesan or additional spices to the pork rind crumbs for different tastes and textures. You can use this same technique on pork chops, fish, shrimp, whole chicken breasts, or even for veggie fries!
Don't forget to tag us on Facebook or Instagram @PorkKingGood to share your recipe pics with us!!