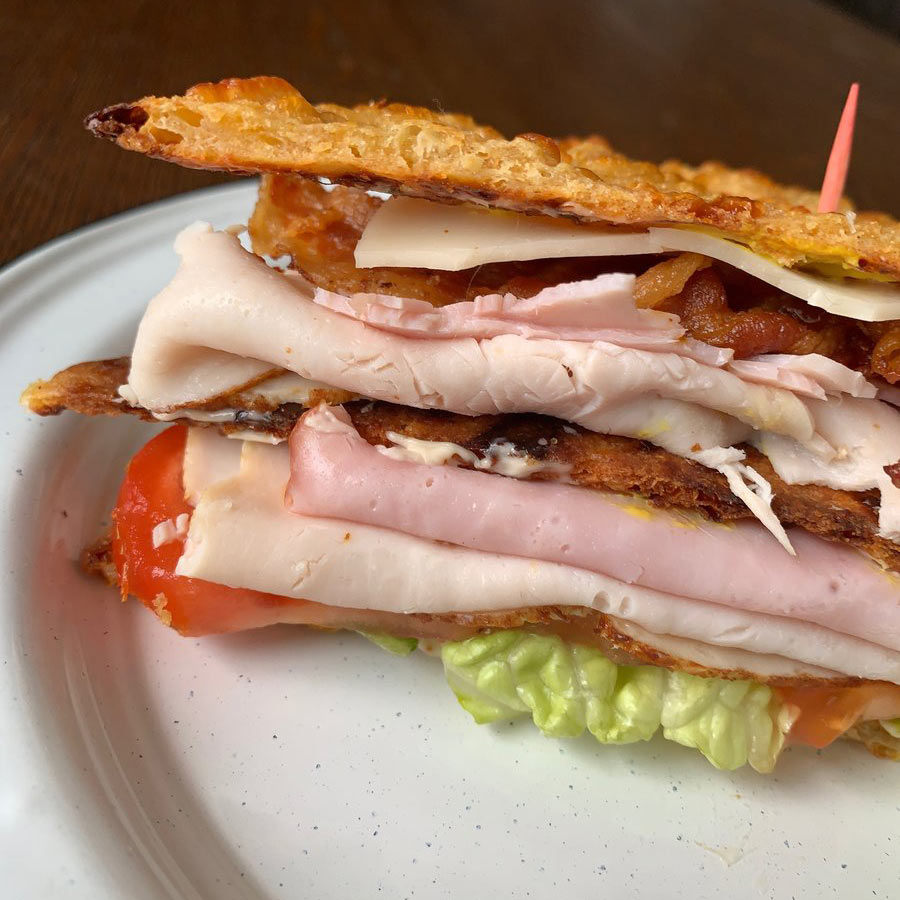 Pork King Good Low Carb Keto Sandwich Bread! (Turkey Club)
Dear World, behold the most simple and versatile homemade keto sandwich bread ever! We've simply taken the famous #ketocrisp recipe and baked it in the oven to create a sandwich bread with unlimited potential! In this version, we've stacked the bread into one of our absolute favorite pre-keto sandwiches: the turkey club!
Pork King Good Pork Rind Crumb Sandwich Bread Recipe:
Prep time: 5 minutes     Cook time: 15 minutes     Yields: 8 half slices or 4 full slices
Ingredients:
1 cup shredded cheese (we used mozzarella but any flavor will do just fine)
2 eggs
4 tablespoons mayo (we used avocado mayo)
Instructions:
Preheat oven to 400 degrees
Stir all ingredients together in a bowl
Line a baking sheet with parchment paper
Wet your hands thoroughly (to prevent the dough from sticking to your fingers) and press it down onto the baking sheet to form a large, flat rectangle. You may need to wet your hands a second time during the process if things get sticky.
Bake for 15 minutes, remove from oven, and allow to cool for a couple of minutes.
Cut your slices to your preference. (We cut our dough into 4 squares and then cut each in half diagonally to make 8 halves.)
Feel free to get creative and stuff your sandwich with whatever filling you'd like! In this case, we double stacked some turkey, ham, bacon, lettuce, tomato, swiss cheese, mustard, and mayo to make the most delicious low carb turkey club!
Please share your own Pork Rind Crumb sandwich creations with us online @PorkKingGood!