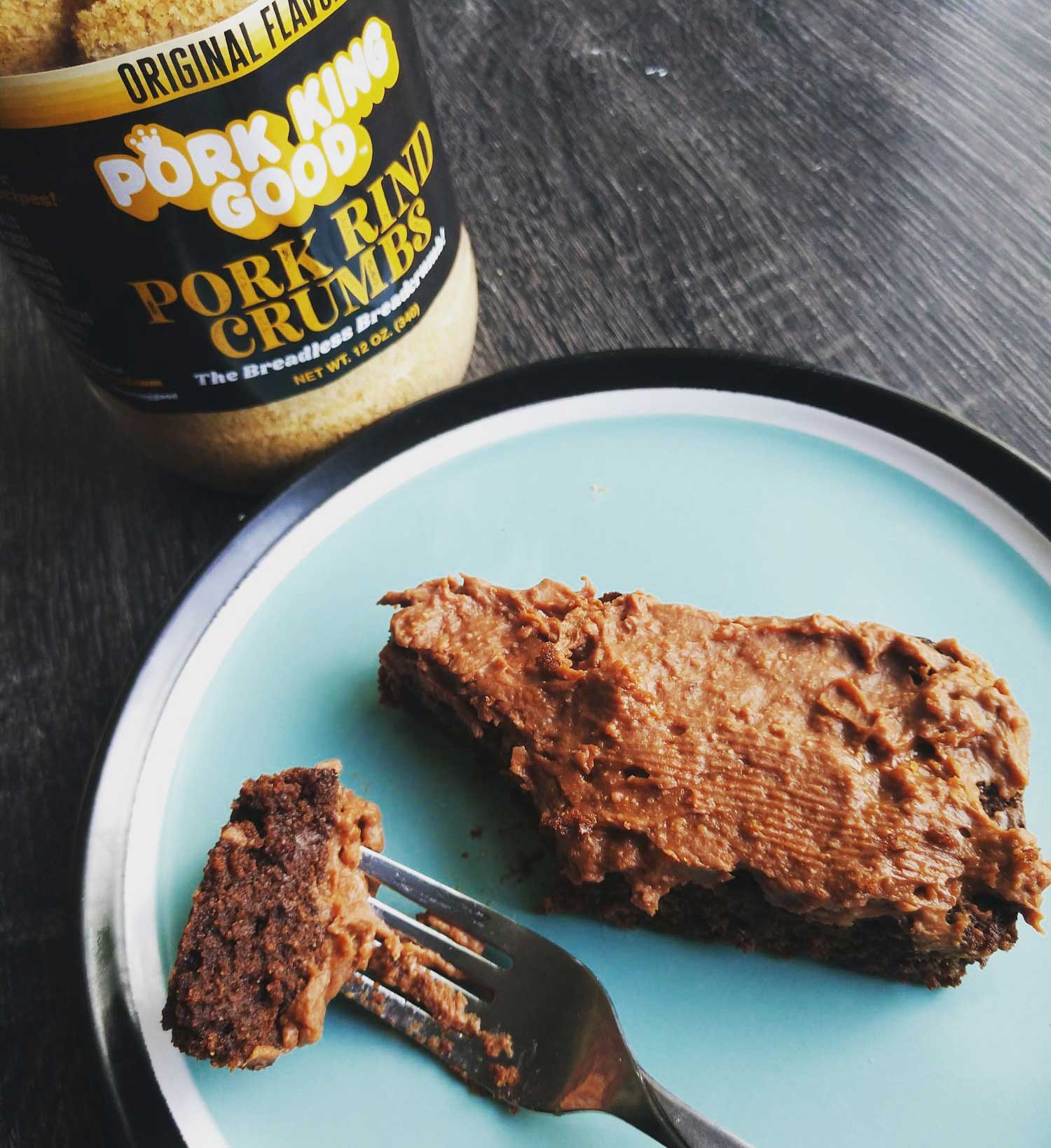 Pork King Good Low Carb Keto Chocolate Peanut Butter Frosted Pork Rind Brownies
Sometimes our pork rind experimental recipes go straight into the trash, and other times we shock ourselves with the outcome (in a good way!). THIS was one of those shocking moments. As regular keto folk who can't bake for the life of us, we were seriously amazed at these brownies!! First of all, let's talk about the fact that we concocted chocolate brownies out of PORK RINDS!! That in itself is magical. Next, let's discuss the fact that they were moist, gooey, and delicious, and possibly the best keto-friendly dessert we've ever tried! Proud moment right here! The brownie texture itself was spot on, and the chocolate peanut butter cream cheese frosting was the icing on the cake (LITERALLY, LOL!). We could easily see this recipe being converted into a cake mix as well, for the best keto birthday ever. Here's how it went down...(Feel free to tweak to your own taste)
Prep time: 10 minutes     Cook time: 27 minutes     Yields: 8 servings
Brownie Mix Ingredients
1 cup Pork King Good Pork Rind Crumbs (original)
2 eggs
3 tbsp coconut oil
3/4 cup granulated sugar substitute (we used monk fruit)
1/4 cup unsweetened cocoa powder
1 serving of Lily's dark chocolate chips
1 tsp vanilla extract
1/4 tsp baking powder
2 tbsp heavy whipping cream or half & half
Frosting Ingredients
4 oz cream cheese (softened)
1 serving Lily's dark chocolate chips (melted)
1 serving of PB2 powder or peanut butter of choice. (This can be omitted and replaced with more chocolate, if you prefer).
2 tbsp to 1/4 cup sugar substitute, depending on taste. We recommend starting with a smaller amount and increasing from there. (We used granulated monk fruit)
2 tbsp heavy whipping cream or half & half
Instructions for Frosting:
Soften cream cheese and chocolate ships and combine with remaining ingredients until thoroughly mixed.
Feel free to add extra sweetener depending on taste, or extra creamer if the mix is too thick for your taste.
Instructions for Brownies: 
Preheat oven to 350 degrees
Melt down the coconut oil and chocolate chips
Combine and stir all remaining ingredients together until thoroughly mixed.
Grease or spray down a baking loaf pan and scoop the mix into the pan evenly.
Bake for 25 to 27 minutes and then cool for 5 minutes. Top with frosting and cut into 8 servings (or 16 smaller servings).
Stuff Your Pork-King Face!