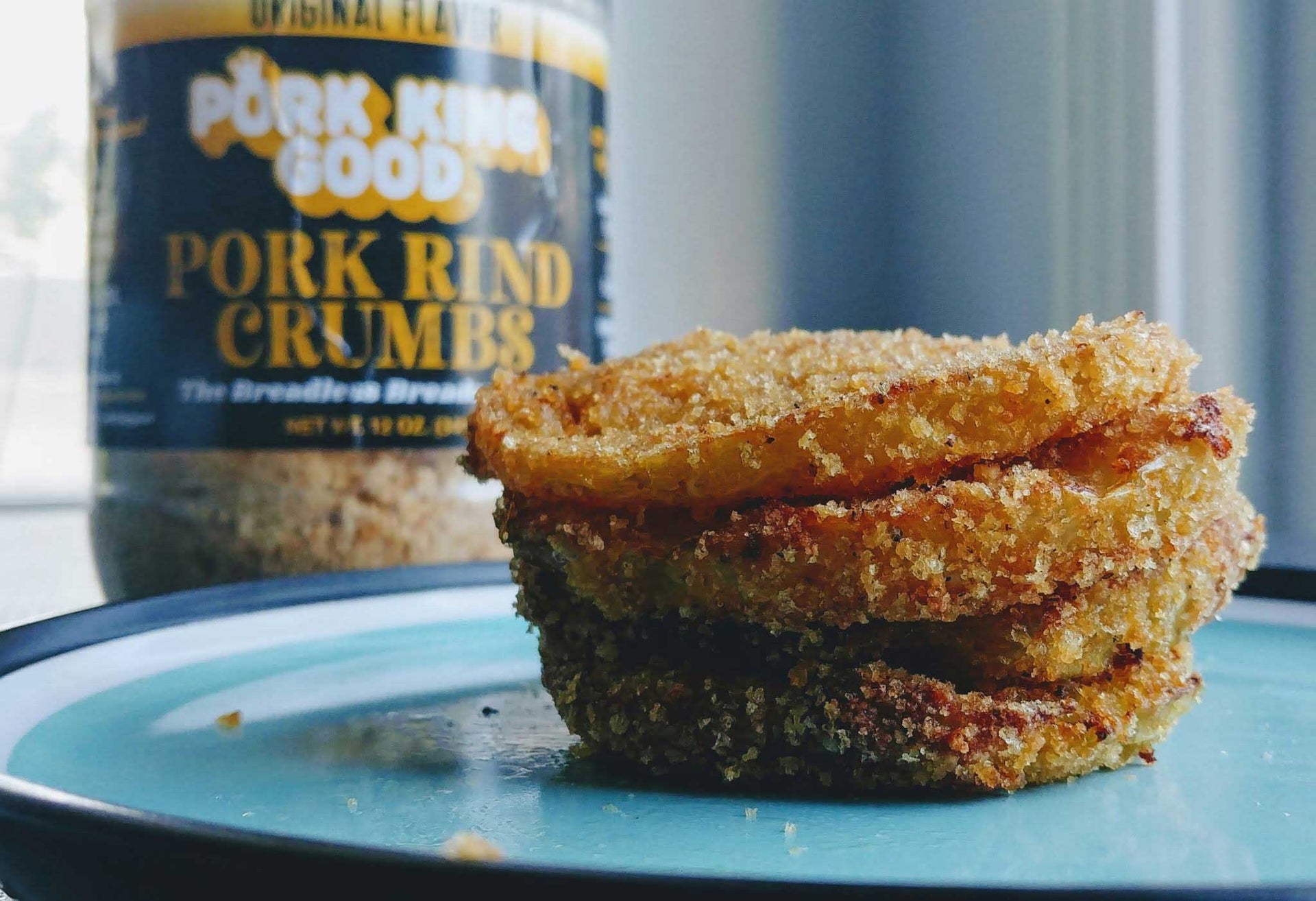 Pork King Good Low Carb Keto Air Fryer Pork Rind Fried Green Tomatoes
The ultimate summer side dish!! We've keto-fied a classic southern favorite with our Pork Rind Crumbs! This recipe meets our two basic requirements: EASY & DELICIOUS! We dipped them in ranch and the results were magical. This is definitely being added into heavy rotation in our household.
We actually experimented and made the recipe two ways: in the air fryer and pan-fried. While the pan-fried version did come out slightly crisper, the air fryer version was our pick for winner because it cooked evenly and turned a beautiful golden brown. Either way, you'll be happy. Here's how it went down:
Prep time: 10 minutes     Cook time: 14 minutes    
Ingredients:
2 green tomatoes
1 egg
2 tbsp heavy whipping cream or Half & Half
seasoning of choice (we like a cajun seasoning using salt, garlic powder, black pepper, and red pepper)
cooking spray
Instructions:
Slice green tomatoes about a half inch thick
Combine your egg and cream in a bowl and stir until blended
Pour your Pork Rind Crumbs on a plate and mix in seasoning of choice
Dip each tomato slice in the egg mixture and then coat in the Pork Rind Crumbs until fully covered.
Spray each side of each slice with an oil cooking spray and cook in the air fryer at 400 degrees for 6-7 minutes on each side. (If pan frying, coat the bottom of your pan with oil and cook on medium high heat for 3 to 4 minutes per side). Drain excess grease on a paper towel lined plate).
Serve with dip of choice, and Stuff Your Pork-King Face!