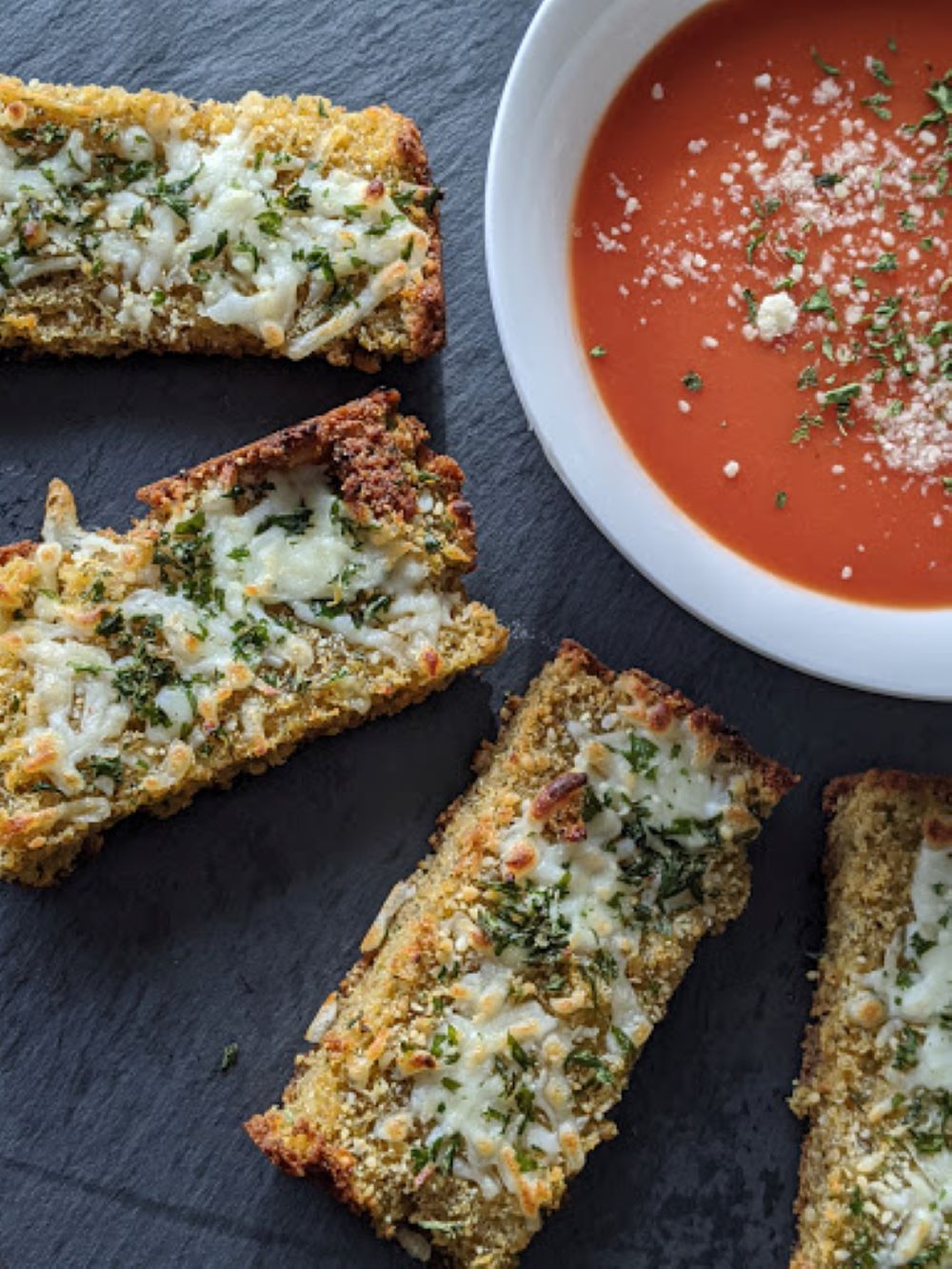 Italian Cheesy Garlic Bread
Bread Ingredients:
2 cups Pork King Good Italian Pork Rind Crumbs
1 cup shredded mozzarella
3 eggs
4 tbsp sour cream
1.5 tbsp baking powder
1 tbsp garlic powder
Toppings:
4 tbsp salted butter
1 tbsp minced garlic
Grated Parmesan
1/2 cup (or more) shredded mozzarella (optional - depending on desired cheesiness)
Parsley flakes
Instructions:
Preheat oven to 425 and grease a loaf pan.
In a large mixing bowl, stir together the Pork Rind Crumbs and the baking powder with a fork, long enough to get rid of any baking powder clumps.
Add in the rest of the ingredients and mix everything together thoroughly.
Place your dough into the loaf pan, and gently press down to even out the top.
Place the pan in the middle of the oven and bake for 20-22 minutes.
Remove from oven and cool for approximately 10 minutes.
Switch oven to the Broil setting.
Once cool enough to handle, remove your bread from the loaf pan, and slice it into 8 servings (or 4 thicker servings, if you prefer)
While your bread is cooling, melt your butter in a saucepan.
Once melted, add in your minced garlic and let it simmer until the garlic turns a golden color (and smells amazing)
Brush your garlic butter across the top of each slice and then top with as much shredded mozzarella and grated parm (and parsley if you're feeling fancy) as you'd like.
Line a baking sheet with parchment paper and place your garlic bread slices onto the baking sheet. Pop back into the oven for a few minutes, long enough to melt the cheese. (Keep an eye on it so it doesn't burn).
Serve with marinara sauce for dipping, or tomato soup (as pictured).
Stuff your Pork-King face!