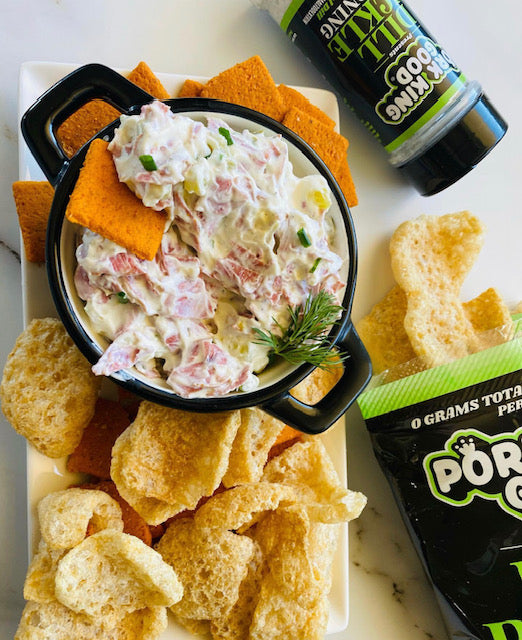 Dried Beef Pickle Dip (@on_westhoff_ranch)
Sounds weird, I know! But it's DELICIOUS!!
And if you didn't get the memo...we love ANYTHING and EVERYTHING PICKLE!
Just like "More cowbell!"
We want "More Dill Pickle Seasoning!"

.
Ingredients:
8oz. cream cheese, softened
1/2c sour cream
1 (3oz) jar dried beef , we used Hormel brand
2TB green onions, chopped
1/3c dill pickles, coarsely chopped & drained
1/2tsp Pork King Good Dill Pickle Seasoning
1/4 teaspoon black pepper
.
Directions:
Rinse dried beef REALLY well with cold water. If you don't do this you'll be sorry. Your dip will be too salty! After rinsing, dry really well and chop into little pieces. Set aside.
Cream together cream cheese and sour cream until creamy.
Mix in other ingredients and dried beef.
Chill until serving.
Serve with Pork King Good Pork Rinds, crackers or fresh vegetables.