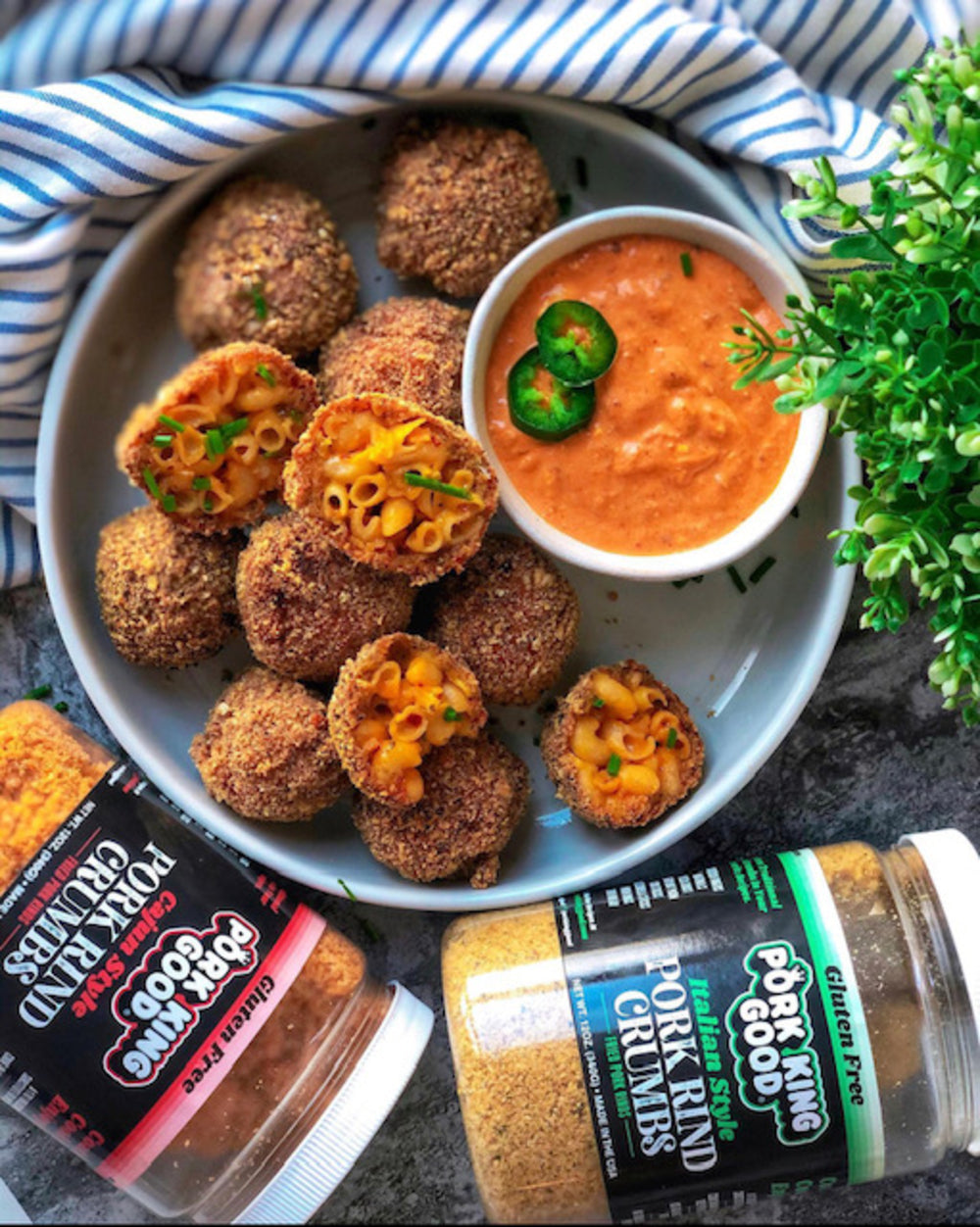 Cajun Mac and Cheese Balls ( @butter_me_keto )
What is better than Mac and cheese? Mac and cheese rolled into tiny little balls of heaven and deep fried (DUH!!). Oh and did I mention these were low carb?



 𝐈𝐍𝐆𝐑𝐄𝐃𝐈𝐄𝐍𝐓𝐒

Mac and Cheese
- 1 cup low carb noodles elbows 
- 1 packet cheese flavor , Kraft Brand
- Finely diced chives
- 1 tsp Pork King Good Himalayan Pink Salt and Vinegar Seasoning 
- 1/4 cup almond milk
- 4 tbsp unsalted butter


 Coating
- 1 cup Pork King Good Cajun Pork Rind Crumbs
- 1 cup Pork King Good Italian Pork Rind Crumbs
- 2 eggs 
- 2 tbsp heavy whipping cream

 Chipotle Dip
- 4 tbsp cream cheese
- 1 tbsp chipotle garlic whip, Bralas Best
- 2 tbsp Marinara sauce, Raos 
- Chili flakes
- Salt to taste

Others
- Avocado oil for frying

 𝐈𝐍𝐒𝐓𝐑𝐔𝐂𝐓𝐈𝐎𝐍𝐒
- Boil your favorite pasta al dente.
- Make your Mac and cheese using the above ingredients. Let it rest in the fridge until it firms up (2 hours)
- Using a small cookie scoop, roll macaroni and cheese into 1 1/4-to-1 1/2-inch balls, forming about 12.
- Whisk eggs and heavy cream together in one bowl then both pork rind flavors in another bowl.
- Working one at a time, dip balls into eggs wash then dredge in mixed pork rind crumbs generously, pressing to coat.
- Fry in Avocado oil. Serve immediately, garnished with chives.